Search this Website
---

Want to Join?
Click here for information about applying for membership in ASAPIL.


You receive our professional, peer-reviewed journal, Psychological Injury and Law as one of several benefits of membership.
---
SCImago Journal Rank (SJR) for Psychological Injury & Law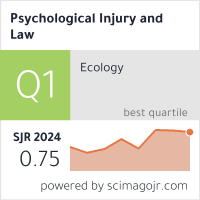 SCImago Journal Rank (SJR) measures weighted citations based on the subject area and the prestige of the citing journal.
Also see the Journal Ranking Comparison page to see how Psychological Injury and Law compares to other forensic psychology and psychiatry journals.
---
CiteScore - Law Journals
---
Announcements!
Announcement #1: Hardcopies of PIL are now available free to members! Fees for 2017 remain the same at $100 (USD) for Full Status Member. Please see our Membership Fee page for more details.
Announcement #2: Dr. Gerald Young completed a FREE online educational workshop on Psychological Injury and Law. Please see our Continuing Education page for details and links to the videos.
Announcement #3: We've launched a new email discussion list on psychological injury and law. ASAPIL members only. Please contact us for an invitation.


---
Subscribe to the ASAPIL Reporter!
The ASAPIL Reporter is an email newsletter with up-to-date information about the Association, including:
Previews of upcoming issues of the Psychological Injury and Law journal
New continuing education workshops
General Membership Meeting and Board of Directors meeting notices
Upcoming ASAPIL conferences
News items related to psychological injury and law
And more!

There's an easy one-click unsubscribe link in every issue if you change your mind. Published about once a month. Note that you'll need to confirm your subscription in an email that will be sent to you after you submit the form below.

Subscribe now: